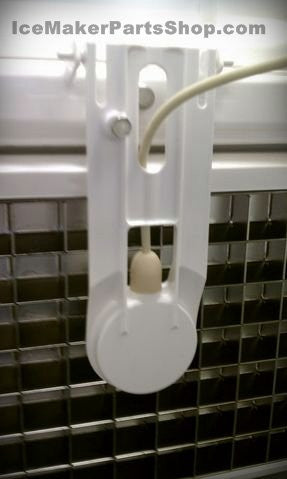 000008660 Manitowoc I Series Ice Thickness Control
Manitowoc ice thickness control for the I Series ice maker.  The latest technology found on the I Series Manitowoc cubers includes this ice thickness probe that utilizes sonar to set the thickness of the bridge of ice.  This probe will only work on the I Series Manitowoc.
Manitowoc Part Number: 000008660
Also known as:
ice bridge control
ice probe
harvest switch
What it does:
The Manitowoc ice thickness control will sense the thickness of the ice bridge forming on the evaporator.  This part will then tell the board to initiate harvest once a sufficient thickness has been reached.  Needs to be adjusted once installed.
This ice thickness control was designed to work exclusively on the Indigo series ice machine, read this article to find out which ice thickness probe will work with your ice machine.
Indigo Ice Thickness Control used on the following ice machine models:
ID0302A
ID0303W
IY0304A
IY0305W
ID0322A
ID0323W
IY0324A
IY0325W
ID0452A
ID0453W
IY0454A
IY0455W
IR0520A
IR0521W
ID0522A
ID0523W
IY0524A
IY0525W
IR0500A
IR0501W
ID0502A
ID0503W
ID0592N
IY0504A
IY0505W
IY0594N
ID0606A
ID0606W
ID0696N
IY0606A
IY0606W
IY0696N
IR0906A
IR0906W
IR0996N
ID0906A
ID0906W
ID0996N
IY0906A
IY0906W
IY0996N
ID1002A
ID1003W
ID1092N
IY1004A
IY1005W
IY1094N
ID1202A
ID1203W
IY1204A
IY1205W
ID1402A
ID1403W
ID1492N
IY1404A
IY1405W
IY1494N
IR1800A
IR1890N
ID1802A
ID1803W
ID1892N
IY1804A
IY1805W
IY1894N
000008660 Manitowoc I Series Ice Thickness Control has a rating of 5.0 stars based on 5 reviews.