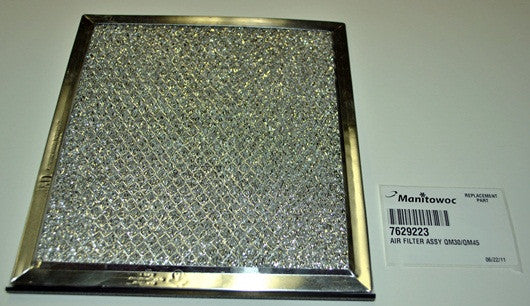 7629223 Manitowoc Air Filter
Manitowoc Part Number: 7629223 or 76-2922-3
This OEM air filter is made for QM30A and QM45A under counter ice makers.  This is a reusable filter, that can be cleaned and washed out regularly.
This filter will not fit larger under counter machines, for Q130, Q170, and Q210 ice makers please see part number7629143.
What does this ice maker part do?
This Manitowoc metal mesh air filter is designed to remove particulates from the air, before it enters the condenser.  This will help keep your air condenser clean and allow the ice maker to perform at maximum efficiency.  A dirty air condenser will cause the ice maker to take longer to make a batch of ice and eventually shut the machine down.
7629223 Manitowoc Air Filter has a rating of 5.0 stars based on 2 reviews.