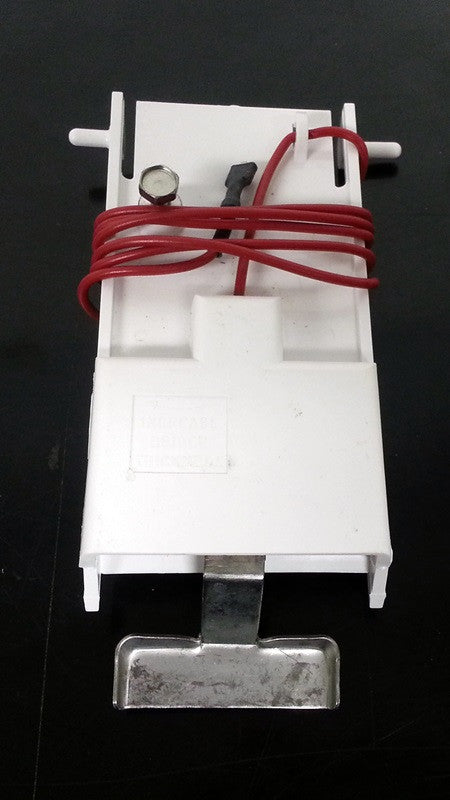 2008029 Manitowoc S Series Ice Thickness Control
Manitowoc ice thickness control for S-Series ice machines.  Can be used on both 115v and 208-230v ice makers.
Manitowoc Part Number 20-0802-9, 2008029, 20-0802-3, 2008023
What does this ice maker part do?
The ice thickness control is responsible for sensing when to place the ice maker in harvest mode.  After a full batch of ice forms, the bridge of the ice on the evaporator begins to thicken, eventually the water running over the evaporator will come in contact with the ice thickness probe.  Once the thickness probe senses  water contact for 6-7 continuous seconds it will initiate a harvest cycle.
How to tell if Manitowoc ice thickness control is bad?
If you have an ice maker stuck in a freeze cycle, it's possible that your ice thickness control has either failed or isn't adjusted properly.  More commonly the probe will initiate a harvest cycle too soon.  Scale build up on the probe can also cause a premature harvest, simply try cleaning the ice maker part before replacing.
Also known as ice probe, bridge thickness probe, harvest switch.
Manitowoc S Series Ice Thickness Control will work on the following ice maker models:
SD0302A
SD0303W
SY0304A
SY0305W
SD0322A
SD0323W
SY0324A
SY0325W
SD0452A
SD0453W
SY0454A
SY0455W
SD0522A
SD0523W
SY0524A
SY0525W
SD0502A
SD0503W
SY0504A
SY0505W
SD0592N
SY0594N
SD0602A
SD0603W
SY0604A
SY0605W
SD0692N
SY0694N
SD0852A
SD0853W
SD0892N
SY0854A
SY0855W
SY0894N
SD1002A
SD1003W
SD1092N
SY1004A
SY1005W
SY1094N
SD1202A
SD1203W
SY1204A
SY1205W
SD1402A
SD1403W
SD1492N
SY1404A
SY1405W
SY1494N
SD1602A
SD1692N
SY1604A
SY1694N
SD1802A
SD1803W
SD1892N
SY1804A
SY1805W
SY1894N
How to identify the different Manitowoc Ice Thickness Probes.  Find out which ice thickness control fits your model ice machine.
2008029 Manitowoc S Series Ice Thickness Control has a rating of 5.0 stars based on 3 reviews.