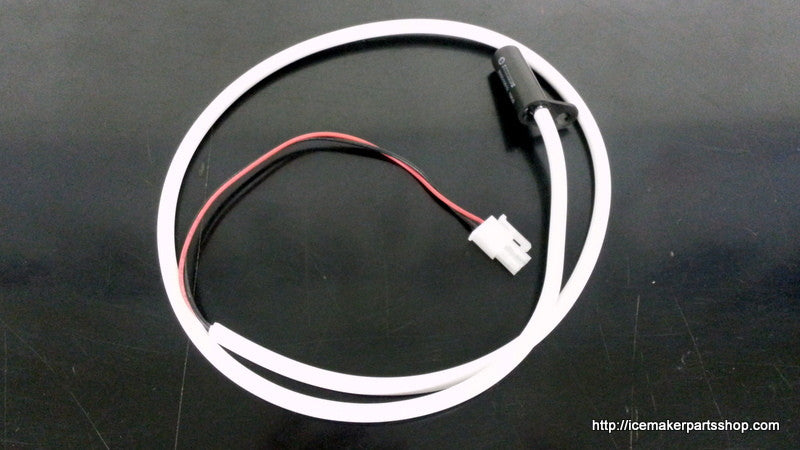 000010510 Kool-Aire Bin Switch
Magnetic bin switch for Kool-Aire brand ice machines, by Manitowoc.  This is an OEM bin switch for the following model numbers:
KD0250A
KY0250A
KD0420A
KD0420W
KY0420A
KY0420W
KD0350A
KD0350W
KY0350A
KY0350W
KD0500A
KD0500W
KY0500A
KY0500W
KD0600A
KD0600W
KY0600A
KY0600W
KD1000A
KD1000W
KD1000N
KY1000A
KY1000W
KY1000N
KD1350A
KD1350W
KD1350N
KY1350A
KY1350W
KY1350N
The bin switch is also known operates by sensing the magnet on the water curtain.  When the water curtain is in the closed position, the bin light should be lit on the control board.  This tells the machine that the ice machine is not full and should go back to making ice.
When the ice storage bin is full, the last batch of ice will slowly fall and hold the bin switch open.  This lets the ice maker know that the storage bin is full and it should stop making ice, not going back into a freeze cycle.  It will remain off until the bin switch is satisfied.
The Kool-Aire bin switch can be an intermittent problem.  The only way to test is to OHM it out and look for consistency.  The Manitowoc bin switch looks similar, but they are not interchangable.  Manitowoc bin switch part number 000007888 is used on S series and Indigo series ice machines.