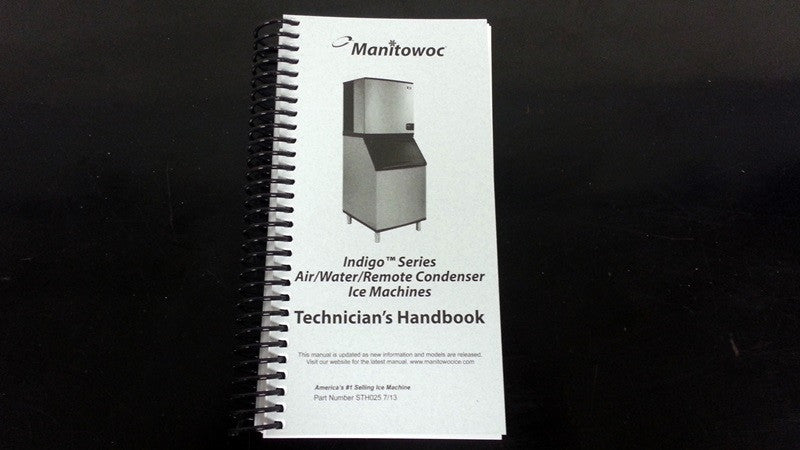 Manitowoc Indigo Service Technician Handbook
This is an essential tool for any service technician.  Like any other tool, this will allow a tech to service an Indigo ice machine with accuracy and efficiency.
Included in this service tech handbook are refrigeration specs, charges, wiring diagrams, and diagnostic help.  These are the same books used by Manitowoc Factory Authorized service representatives and factory trained personnel.
This Indigo service book covers the following models, including Air, Water, and Remote ice machines:
ID0302A, IY0304A, ID0322A, IY0324A, IR0520A, ID0522A, IY0524A, ID0452A, IY0454A, IR0500A, ID0502A, IY0504A, ID0602A, IY0604A, IR0850A, ID0852A, IY0854A, ID1002A, IY1004A, ID1202A, IY1204A, ID1402A, IY1404A, IR1800A, ID1802A, IY1804A, ID0303W, IY0305W, ID0323W, IY0325W, IR0421W, ID0423W, IY0425W, ID0453W, IY0455W, IR0501W, ID0503W, IY0505W, ID0603W, IY0605W, IR0851W, ID0853W, IY0855W, ID1003W, IY1005W, ID1203W, IY105W, ID1403W, IY1405W, IR1801W, ID1803W, IY1805W, IR0590N, ID0592N, IY0594N, ID0692N, IY0694N, IR0890N, ID0892N, IY0894N, ID1092N, IY1094N, ID1492N, IY1494N, IR1890N, ID1892N, IY1894N
Manitowoc Indigo Service Technician Handbook has a rating of 5.0 stars based on 3 reviews.