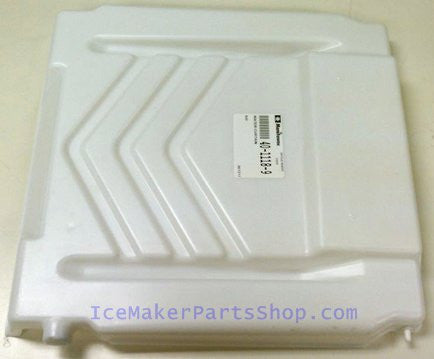 4011189 Manitowoc Water Curtain
Water curtain for Manitowoc S Series 22″ wide ice machines, model S322 and S422.  This water curtain, also known as a water shield, will fit all air-cooled and water-cooled ice makers in the 22″ S Series 320 and 420 model lineup.
Manitowoc OEM Part Number: 40-1118-9 or 4011189
KD0250A
KY0250A
KD0420A
KD0420W
KY0420A
KY0420W
KD0350A
KD0350W
KY0350A
KY0350W
SY0324A
SY0325W
SY0424A
SY0425W
SD0322A
SD0422A
SD0323W
SD0423W
Water curtains may need to be replaced if the pins are cracked or broken, or the magnet is missing.  The water curtain serves as a trigger for the ice machine to initiate the freeze cycle or terminate the harvest.  As ice falls off of the evaporator, the water curtain opens, breaking the proximity switch between the magnet and bin switch.  When the ice machine is full, the curtain is held open, signaling to the control board to shut down.